Finally! After seven long years, Red Bull looks like a potential champion again. Everything has seemingly come together with the RB16B – the car looks consistent and predictable, and Honda's heavily updated engine looks leaner and meaner than ever.
Of course, this is not the first time in the hybrid era a rival has put Mercedes under pressure, but never has Mercedes looked genuinely behind at the first race. In fact, this was the first occasion since 2013 that Lewis Hamilton hasn't qualified on pole for race one…
Mercedes admits Red Bull has a significant performance advantage right now, and Max Verstappen is champing at the bit. Only an amazing drive by Hamilton, allied to Max misjudging the move that should have sealed the victory for Red Bull, prevented a Mercedes defeat in Bahrain. The stage is set for a classic battle between the old master, the young pretender and F1's top two teams.
In a parallel universe, one in which he hadn't abandoned ship for a major payday at Renault, this month's cover star, Daniel Ricciardo, might also be driving RB16B and no doubt relishing the prospect of trying to make it a three-way fight.
Of course, this ignores the complex internal politics of a team drifting inexorably in Verstappen's direction, and Ricciardo feeling compelled to forge a fresh path for himself. But the common thread is faith. Ricciardo left Red Bull for Renault partly because he didn't share Verstappen's belief in Honda. Dan felt Renault would come good first. Now that looks like a major misjudgement.
For Ricciardo to achieve his life's ambition of becoming world champion, he's now bet the farm on McLaren becoming a frontrunner again. That didn't work out for Fernando Alonso of course, but there's a lot to like about this fit. Ricciardo is a sunny character with a happy-go-lucky attitude, and Zak Brown is proud to have transformed post-Ron Dennis McLaren into a team that is, in Zak's words, less Darth Vader and more Luke Skywalker.
McLaren feels different now the doom and gloom of the Honda years has lifted, but that fierce desire to get back to winning remains. Both Ricciardo and Brown are big fans of Andreas Seidl – the best team principal in F1 says Brown – and a return to customer Mercedes engines is a logical step forward that should bear fruit in the short term.
If McLaren can defeat Ferrari and retain third in the constructors' championship, that would represent a great return before 2022's major rules revolution arrives.
That's when things start to get serious again. Ricciardo has signed up for three years on the basis F1 itself is moving towards McLaren's sweet spot. Will it be enough to beat what will then become the Red Bull works team? Who knows? But Ricciardo doesn't seem the type to dwell on the past in any case. Onwards and upwards.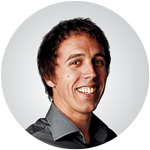 Ben Anderson
Editor