Welcome to the very first issue of GP Racing, the magazine formerly known as F1 Racing. That's right, we've had a facelift (see page 67 for details) and now we're roaring into the 2020s with a new name (and subscription offer, see page 126) in time for this new Formula 1 season.
And what a season we hope it will be! Ah, hope… the thing that – in clichéd football parlance – 'kills you'. Better to hold no expectations than have them dashed horribly on the rocks of reality, right?
But this is the time of year for such fancy. Will Lewis Hamilton have it all (largely) his own way again, or is this the season Ferrari finally gets its act together and sustains a title challenge all the way to the end? Will Red Bull-Honda come good after progressing so rapidly as a fledgling partnership? 
Realistically, these are the only two directions a challenge to Mercedes will come from. The gap behind F1's 'big three' is too big for a resurgent McLaren, or its engine supplier Renault's stuttering works outfit, to bridge in one go – especially when all teams must have more than half an eye on seismic forthcoming rule changes for 2021.
It would be so typical of F1 to finally produce a barnstorming spectacle then tear everything up again, unnecessarily creating an opportunity for one clever, well-funded outfit to steal a march on the rest and bake advantage in for the foreseeable future. When did that last happen, I wonder?
The fact Toto Wolff is on record suggesting his team could be half a second off the pace next year if it doesn't judge the transition correctly is telling. It says Mercedes is already working on next season, before this one has even begun! Even Franz Tost's little team is altready on an 80/20 split.
That will be the true test of Liberty Media's planned shake-up – that all teams converge and F1's perennial 'midfielders' finally have a genuine shot at competing for outright honours. In the meantime, the dread will be that the Mercedes machine just rolls on, like some giant out-of-control snowball, gathering unstoppable speed.
There were signs last year, as Ferrari flattened out the peaky performance curves of its car concept in the second half of the season while Red Bull became more competitive more often, that perhaps the relentless pace of Mercedes' winning momentum was beginning to slow. 
But Mercedes dropped only 14 points from a possible 352 across the first eight races of 2019 don't forget. Those foundations of success were so solid, Mercedes barely needed to update the W10 through the second half of the season. That means while Ferrari and Red Bull were still hurling kitchen sinks at one another, Mercedes was most likely getting a big head start on its 2020 preparations.
It's enough to make your heart sink, isn't it? But I must stop this. Now is the time for hope…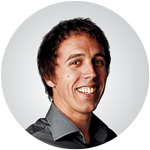 Ben Anderson
Editor