Now we've got your attention with this month's bold cover image, let's talk about Sebastian Vettel's impending switch from Ferrari to the team known as Jordan/Midland/Spyker/Force India/Racing Point, soon to be known as Aston Martin.
We're well aware this forthcoming rebranding exercise will involve British racing green coming back into Formula 1 in some way, shape or form – but we've also learned that initial designs for next season's colour scheme were rejected for not including enough pink… Whichever way you slice it, Vettel will be looking pretty in pink next season.
However Lawrence Stroll chooses to dress his people – let's not forget Racing Point is not becoming a 'works' outfit in the technological sense of Ferrari, Mercedes or Renault, rather rebranding a partner team in the style of Sauber/Alfa Romeo – and however much green is ultimately thrown at the car, Vettel will still in reality be driving F1's 'pink Mercedes' in 2021.
It's a bold move for a four-time champion – swapping F1's oldest and grandest team for a true minnow. Of course, Racing Point (as it's currently known) has for years now been incredibly successful at punching above its weight. The question now is, how to take the next step? As Luke Smith explains, starting on page 34, that's where Vettel comes in.
Even if Stroll's ambition (and bank balance) allied to Vettel's experience and the potential for major rebalancing of power in F1 thanks to new Concorde Agreements, budget caps and technical regulations, is enough to genuinely allow teams like Racing Point to truly compete, much will still depend on Vettel rediscovering his mojo in new surroundings.
Also standing in the way will be other resurgent midfield outfits looking to take advantage of F1's impending new dawn. Two of those are McLaren and Renault which, as Woking-bound Daniel Ricciardo tells us (page 46), has made a genuine step forward this year, after a trying 2019, thanks to a gradual shift in culture and mindset.
Whether a potential Red Bull reunion following Honda's shock decision to withdraw after 2021 (see page 16) negatively affects this momentum remains to be seen, but it does throw up interesting questions concerning Max Verstappen's future. Yes, he has a contract until the end of 2023, but that was agreed before Honda pulled out… Christian Horner says this is irrelevant, but such a seismic shift in the landscape always creates ripples, and drivers as powerful as Max can always reconsider options – does he really want to work with Renault again?
Perhaps then (if he's still in power) Toto Wolff will finally get his man. Verstappen versus (by then probably eight times) world champion Lewis Hamilton, in identical cars. What a fantastic final test that would be for Lewis before he finally calls time on a glittering career.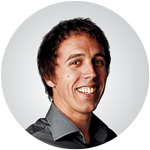 Ben Anderson
Editor