After so many years of watching the silver (and black) cars dominate Formula 1, it's difficult to fully comprehend what we're now witnessing. Watching Lewis Hamilton – a seven-time champion – struggling to escape Q1 at Imola, asking how far off the pace he is, describing the gap to where he belongs as "crazy", seems unthinkable when you consider this same team won a record eighth consecutive constructors' world championship less than five months ago.
What a difference a winter makes… though perhaps the writing was on the wall much sooner. Two significant rules changes, back-to-back, have derailed the mighty Mercedes winning machine. Not since 2009 has Hamilton begun a Formula 1 season this badly.
"There are people that watch and say that I've never had a bad car," he says. "And I can assure you I have. The 2009 car [McLaren MP4-24] was very, very far off. I was in my third year in this sport, it was a brand new era of car, and I remember coming back in February, or January, to the team, and the head aerodynamicists were like, 'Oh, we've already hit our target.' The new rules said that we would have 50% less downforce in 2009, so they designed the car to have 50% less downforce! In February, we were like, 'Oh, we've already hit our target.' And I was like, 'That doesn't sound right…'
"But I didn't have the experience at the time. And then obviously we got to the first test and we realised that others had almost as much downforce as the previous year. And they were like, 'Oh shoot, we've got to work to regain that.' And the ultimate un-locker of that was a double diffuser. And we got there.
"This one's different because the team have not been like, 'Oh, we've already hit our goal.'
We didn't know where everyone would be. They've been super innovative with design. And our wind tunnel was telling [us] we had really good downforce. And unfortunately, we got on track and we didn't see that... there was no bouncing, for example, in a wind tunnel. And we came across this phenomenon. This experience is a lot harder to fix than then we could have ever imagined."
The background to Mercedes' fall from grace, and whether the team can bounce back quickly enough to still make a fight of this year's world championship, is the subject of Andrew Benson's excellent cover feature this month. In the meantime, Mercedes team boss Toto Wolff accepts the W13 represents a roadblock to success for his star driver.
"In a way, I have to protect him here – it's not his low. It's the low of the car performance. We know he's a seven-time world champion. The guy is the best driver in the world, and he's just not having a machine and equipment underneath him to be able to execute."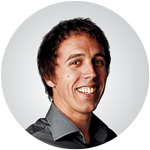 Ben Anderson
Editor