We've nearly finished Formula 1's great format experiment of 2021, and now the novelty has worn off and Monza's 'F1 Sprint' (good they've finally settled on the name!) is in the books we can begin to analyse what we're seeing.
I have to say I think it's the right approach to shake up F1's traditional three-day schedule. For too long Friday practice has been a drawn-out boreathon. I know Robert Kubica loves using these sessions to work on finer details of set-up, but you don't need four hours of practice when simulation is so good. Even cutting the total duration by an hour this year, eliminating most of the long-run tyre analysis, has been a step in the right direction.
Having a focal point on each day is sensible, and it's particularly important for race promoters that Friday remains attractive to spectators. The problem with the current trial format is that it has only added to Friday's spectacle by taking away something from Saturday and Sunday.
We now have a weird situation where Friday's 'qualifying' session takes place before final practice, which completely messes with the chronology of the weekend and renders FP2 almost meaningless given parc fermé regulations (no car specification changes allowed) already apply.
Then you have the Sprint itself. In principle, the idea of having a second race to entertain fans and create jeopardy makes complete sense, but the two we've seen so far have been largely dull and processional. Even Ross Brawn now acknowledges the result should probably not be used to set the grid for the grand prix itself.
F1 seems to have been surprised by the lack of overtaking, and blindsided by the backlash – including from people within the paddock – at awarding the race winner pole position for the grand prix over the guy who's actually driven faster than everyone else in a qualifying session…
But the main problem is the Sprint just feels like the first stint of the grand prix itself, but brought forward, then red-flagged overnight and restarted from the grid the following day. There's hardly any need to preserve tyres over such short race distances – which already begs the question why anyone starts on anything other than the soft compound when you have free choice – then everyone gets to choose which tyres to start the grand prix on, further homogenising strategies.
F1 is in danger of cannibalising itself here. Something needs to be done about Fridays, while maintaining the integrity of Saturdays and Sundays. Perhaps the solution lies in plans to mandate Friday running for rookies/young drivers in 2022? I propose one free practice/qualifying session and Sprint for them on Fridays; one practice session and qualifying for the main drivers on Saturdays and the grand prix on Sundays.
Now we just need 2022's regulations to create cars that produce exciting racing in the first place…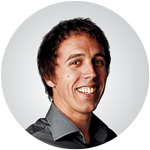 Ben Anderson
Editor