The ramifications of 2020's driver market merry-go-round now play out in front of our eyes. They suggest Formula 1 is tougher than ever – even for drivers with phenomenal reputations, now under threat like never before.
To hear competitors as renowned as Fernando Alonso and Daniel Ricciardo – both Monaco Grand Prix winners – say they feel they are extracting the maximum from their new cars, only to glance at the timing screens and see they are half a second or so off their respective young team-mates – who are both yet to win a race never mind a world title – is quite astonishing.
Alonso was ahead of Ocon throughout Monaco practice, until Ocon got Pirelli's tyres into a better temperature range during qualifying. But even if Monaco exaggerated things, Ocon still out-qualified Alonso four races on the bounce since Bahrain, while Ricciardo struggles to adapt to what Andreas Seidl calls McLaren's "special driving style".
All F1 drivers are malleable to a certain extent, but some are still limited by particular car characteristics or handling traits. It's why Ricciardo only really came alive last year after Renault made a set-up breakthrough at Silverstone, or why Sebastian Vettel looked so second rate against Charles Leclerc in 2020's skittish Ferrari. They prefer the car to come to them rather than chase its tail, but that process takes time – and sometimes cannot be done to their ultimate satisfaction.
Alonso is arguably among the most extremely adaptable of drivers. McLaren insiders spoke of braking systems worth tenths of a second in lap time that Alonso could utilise, but that highly rated Stoffel Vandoorne couldn't, yet now Alonso appears to be suffering for spending two seasons out of the game. F1 never stops. It's why Lewis Hamilton refuses to take a sabbatical, and why it's taken so long for Esteban Ocon to show us what he's really made of after his enforced absence in 2019.
As Alonso, Ricciardo and Vettel (Monaco aside) struggle, Ferrari's Carlos Sainz bucks the trend – showing the benefit of his driving for a fourth different team in seven seasons. He's had exposure to an unusually wide band of F1 cars in a short time, affording him expanded range and demanding adaptability from him. His early performances against Leclerc also suggest he's rather better than he first appeared when cast in Max Verstappen's long shadow.
And what of Sergio Pérez, this month's cover star and the other driver in this mix battling to show the best of himself in a new environment? Red Bull represents the opportunity of a lifetime, but adjusting to a car built around the best driver to arrive in F1 since the hybrid era began is proving difficult. Pérez's reputation is on the line, and he's got a mountain to climb to avoid getting buried. It's perhaps a lesson to all with high aspirations: life can be tough at the top.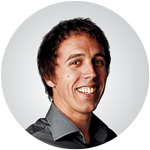 Ben Anderson
Editor