Formula 1 is coming home! And this year's British Grand Prix is going to look and feel quite different – for a couple of important reasons. First, the race will take place with grandstands full, as part of the UK Government's 'Event Research Programme' – designed to guide decisions on mass attendance at major public events.
Silverstone won't exactly be a guinea pig for the UK's wider unlocking plan – the race takes place the day before Britain is due to lift all COVID-19 restrictions entirely – but it will allow up to 140,000 to watch the grand prix in person, provided they've had two COVID vaccinations or can provide proof of a negative COVID test as a condition of entry.
For those who've been longing but unable to see F1 cars in action up close since the onset of the pandemic, this move is long overdue. But for home hero Lewis Hamilton, so often the voice of reason in these strange times, the move seems like F1 fans being put at risk while COVID cases are rising and creating a so-called 'third wave' in the UK.
"It feels a bit premature to me," said Hamilton, who contracted coronavirus towards the end of last year. "I hope we learn something from it, and I hope people stay safe, keep their masks on. That's what I'd encourage everyone – continue to wash hands, continue to wear masks, particularly in those big crowds."
Speaking of guinea pigs, those who attend on Friday and Saturday will experience a true first for Formula 1, as the new 'Sprint Qualifying' format is trialled. Friday's second free practice session will be replaced by the traditional Saturday afternoon qualifying format, setting the grid for a 30-minute race the results of which will set the grid for Sunday's main event.
Exciting way to shake-up a moribund format, or needless tinkering that will make grids more predictable? You decide. But it's not going away – this will be the first of several such pilots through the rest of this season.
Regardless, Silverstone boss Stuart Pringle (page 60) is delighted to be back in business and enjoying the healthier working relationship the British GP now has with Formula One Management.
To help you get ready for this summer's premier F1 event, we've dedicated the bulk of this issue to celebrating Formula 1's original grand prix. We have a special feature on world champion Hamilton (page 36), an exclusive interview with McLaren star Lando Norris (page 42) and analysis of the brilliant work George Russell has done to help turn the struggling Williams team around (see page 50).
We also chat to Callum Ilott (page 56), who could become the first Brit to race an Alfa Romeo in Formula 1 since Reg Parnell at the inaugural 1950 race at Silverstone. Whatever happens this weekend, it will mark another significant milestone as F1 enters its eighth decade.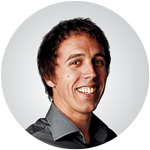 Ben Anderson
Editor